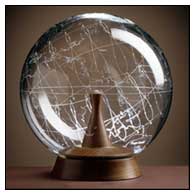 The Wenger Sundial.
Click on the thumbnail pictures below for enlargements.
The photos will open in a new window.
The Lawrence Hall of Science and the Santa Cruz Park sundials were removed after vandalism. Both dials were made using a polycarbonate globe. Polycarbonate is no longer used to make the Wenger Sundial.
The graphic images of the dials show the detail. The actual laser scribing is more detailed than the graphic images show.